New Record Love For All is out out April 1, 2022! PRE-ORDER

Join us to celebrate in California and B.C. GET TICKETS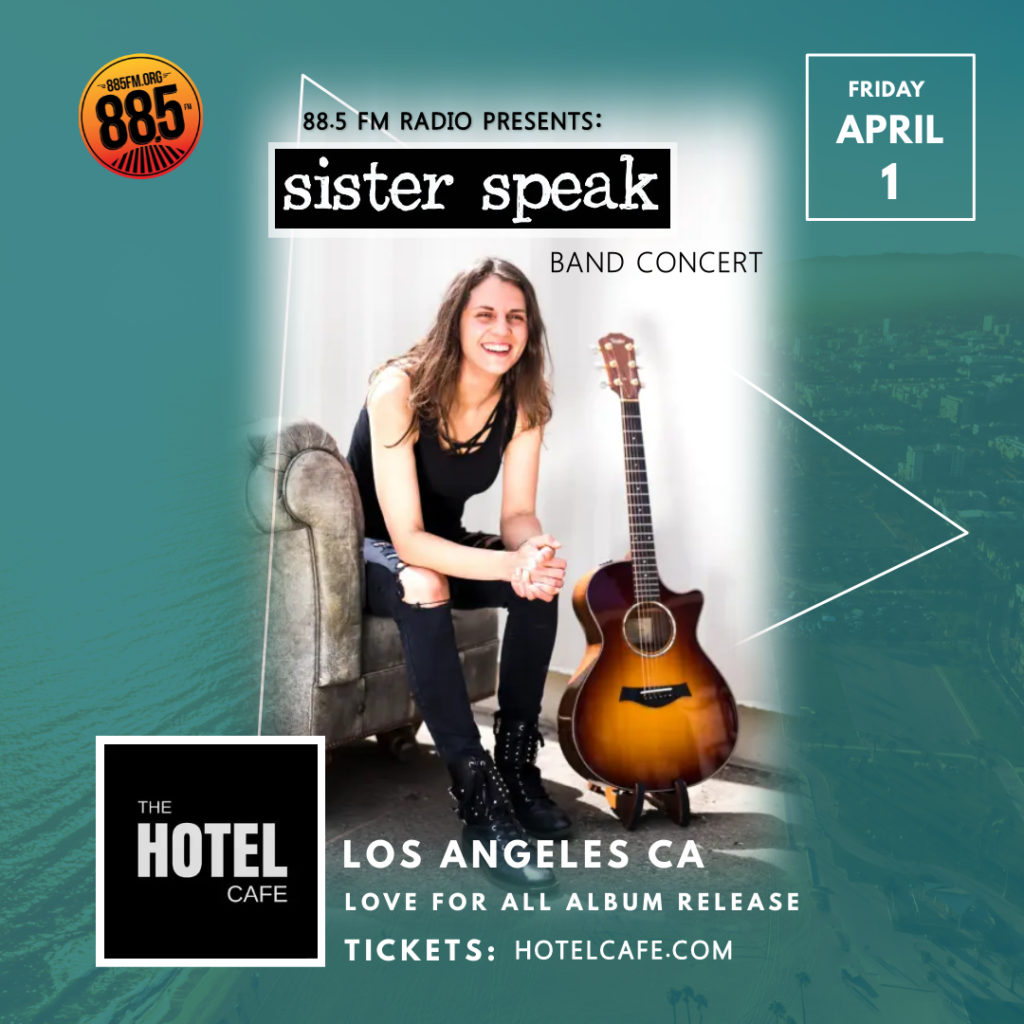 We are ecstatic to see you in California and B.C.! 
Our fourth album, Love For All, is out April 1, 2022 and we are beyond excited to perform the entire record with the band in Los Angeles April 1st and San Diego April 2nd! We are very grateful 88.5FM Radio has offered to present our album release!
Sister Speak solo will also be performing at the amazing Bez Arts Hub in Langley BC just outside of Vancouver Friday March 11th as a "pre-release" concert and JagaSilk in Victoria March 25th for one last Musical Tea Friday before heading to California and the east coast! Hard copies of the new album will be available!!
Sister Speak Upcoming Concerts:
March 11th – Langley BC. Bez Arts Hub. Sister Speak solo. 8-10pm. 102-20230 64 Ave, Langley BC.An evening with Sister Speak. $25 TICKETS (In person and Virtual)
March 25th – Victoria BC. Musical Tea Friday at JagaSilk (Outdoors). 12-4pm. 633 Courtney St. Feat Sister Speak solo, Truth & Dolphin, Steve Chmilar. $20 (includes 3 acts, tea and dessert). TICKETS
April 1st – Los Angles CA. 88.5 FM Radio Presents: Sister Speak Band Album Release Concert. 9pm. 1623 1/2 N Cahuenga Blvd, Los Angeles, CA. $10. TICKETS. Reply with ticket purchase link to reserve a table!
April 2nd – San Diego CA. Full band Album Release Concert. 7pm. Public Outdoor Concert at secret location in San Diego. Tickets $25. Please see ticket info and message from host below 🙂
August 5th – Amberg Germany. "Sommer in der Stadt" Festival. 19:00 hr. Bruno-Hofer-Strasse, 92224. Band Concert. Germany tour kick-off. Tickets on sale April 2022.NEW RECORD "Love For All" (Official Release April 1, 2022)
First single "Run Away" is out this Friday March 4th! Pre-order at www.sisterspeakmusic.com/shop and we will send you a signed copy on CD in March! Or join usat www.patreon.com/sisterspeak – $10+/month includes the new record, an early listen and full access to Sister Speak's Back Porch Sessions Thursdays at 12pm PST. 
** Message from the host for April 2nd in San Diego **
Sister Speak Band @Tecolote Canyon
San Diego Album release
Meshell's Neighborhood Speak easy
Saturday, April 2nd, 2022
Doors open @ 5pm
Program-ish starts at 5:30pm
Sister Speak Band 6-8:30pm

To secure your spot:
Venmo @Meshell-Zwicker
$25 per person (Using "friends" NOT business transaction means no fees)

Write "Sister Speak" in the Venmo comments along with your email address
so we can send you the street address and final details prior to the show.
Final details (including the street address and secret code) will be provided
to those paid & confirmed spots, a few days prior to the event.
Email "Meshell@FireStarterMovement.com" for further information

These spots will go fast.
Commit early.
* * *
What to Bring & Expect:
* * *
Bring your own picnic, beach chairs, ice chest… everything you need to eat and drink and be merry. (Remember to include: Your Cups, utensils, napkins, bottle openers, & warm layers as the sun sets.)
* * *
It will be so wonderful to be together, enjoying music, twilight, And each others company!!
* * *
Your friends are welcome!
(No Returns or cancellations)
OUTDOOR FESTIVAL VIBE!
Here are a few links, some of which have been part of my personal journey of undoing and relearning: https://linktr.ee/sisterspeak
Sister Speak Loves you.