Sherri-Anne
Vocals, Guitar, Songwriter
"The choice made by Sherri Anne to pursue her true passion, music, over her developing status as a star athlete is one for which music lovers can be grateful."
– Hype Music, Toronto ON

Sherri Anne, aka 'Sister Speak,' is a Canadian born song-writer who has made music her life passion.

Sherri Anne began writing music with her brother at the age of 12 and since has written well over 150 songs. Having lived all over British Columbia, in Chicago for University, and part time in Los Angeles CA, Sherri Anne has developed a unique musical pallette featuring a variety of influences.

After recovering from a major injury, Anne's vulnerability was captured on debut album "Rise Up For Love" and a relentless touring schedule followed.

Sophomore record The Stand EP was released in 2018. After a period of travel, change and internal exploration, Sherri Anne lets the music speak through new sonic experimentation and lyrically explores the idea of freedom and what that means to each of us.

Sister Speak's third album, Live at the Belly Up, was released on vinyl record February 2020 at the same legendary venue it was recorded at and online in 2021. The album features songs from both studio album as well and 3 live versions of tracks from Love For All.

Fourth record, Love For All (L'Amour Pour Tous, Liebe Für Alle), was released April 1, 2022. Sister Speak toured the record through Germany, USA and Canada in 2022. In Erftstadt Germany, Sister Speak performed the title track "Love For All" with youth from a nearby refugee camp; musicians from 9 different countries beautifully came together through the music on one stage.

Sherri Anne's songs have aired on radio throughout North America and Europe, including CBC, BBC and NPR Radio, 91X San Diego, 103.5FM Victoria, 88.5FM Los Angeles, and the iheart Radio podcast Laura Cain AfterDark. Sister Speak has performed nearly 1000 shows worldwide, including tours through Canada, USA, Germany, Hungary, France, Mexico, and Costa Rica. Current sponsors include Taylor Guitars, D'addario, Jagasilk Tea and Blockstar Hockey.

Through her musical pursuit, Sherri Anne aims to share message-driven music and support the authentic expression of the woman's voice.
Endorsed by: Taylor Guitars, D'addario, Planet Waves. Sherri Anne plays a 712ce Taylor Guitar & GS Mini Travel Guitar

---
Musicians:
Jacob (Cubby) Miranda
Bass Guitar
In the summer of 2013 Cubby joined Sister Speak for their premier at Belly Up Tavern and somehow nearly every show opportunity for rest of the year snaked through his packed schedule. A true songwriter he is, and an integral piece of the groove behind Sister Speak's evolving sound. Cubby played all the bass parts on Sister Speak's Rise Up For Love album and wrote key basslines, like the bossa nova groove in 'Lady Love' and the driving 'Chicago Dream' bassline. He also appears on Love For All. He braved the Canadian winter on Sister Speak's Tours, and hit the road again for Sister Speak's summer tours to California, Colorado and British Columbia! Cubby's passion for music goes beyond bass as he has experimented with multiple instruments. He continues to play a crucial role in many bands as a solid, dynamic bassist with excellent stage energy and local producer.
Sarven Manguiat
Lead Guitar/harmonies:
In the fall of 2015 Sarven, joined Sister Speak for select shows. His unique tones and experience in a wide range of genres has been an incredible addition to Sister Speak's sound. Sarven tracked all the guitar on The Stand EP and Sister Speak's forthcoming LP. His stage energy, and out of this world guitar lines are a special moment in time every concert. He has toured for over a decade and has inspired many through his heartfelt and captivating stage presence.
Stephen Haaker
Drums
In 2017 Stephen and Sherri Anne met in the Los Angeles music scene. Stephen adds a dynamic, passionate and exciting energy to Sister Speak's full band set. Stephen's versatility lends to a variety of styles. He currently plays drums for various artists/bands including Azealia Banks and many more. Stephen is also a phenomenal producer in the Los Angeles music scene and co-produced Sister Speak's forthcoming LP with Brett Grossman. His dedication to the band is a dream come true.
Kimo Shim
Cajon/Percussion
In the fall of 2015 Kimo Shim joined Sister Speak for select shows throughout California. His hip-hop and latin roots have been an exciting addition to Sister Speak's evolving sound. Kimo joined the Sister Speak Trio opening for Air Supply at Humphrey's Mainstage and has added a unique sound to Sister Speak's acoustic shows.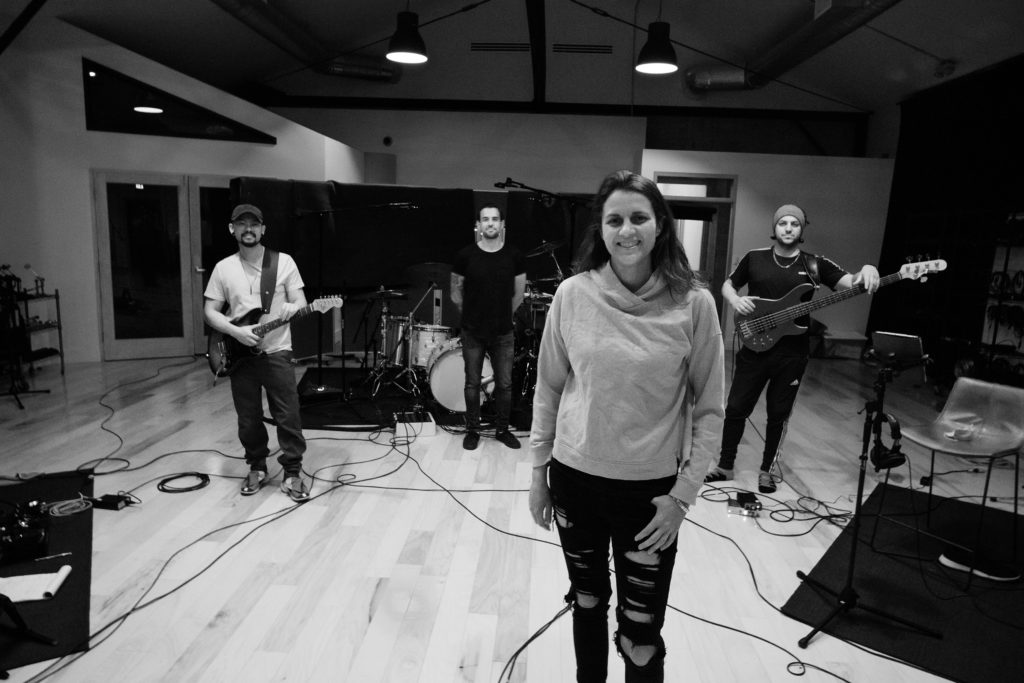 Lonny Eagleton (Canada)
Lonny has been a mainstay in Sister Speak's Canadian tours and has been played in nearly every combination of the band since Sister Speak began. His exciting stage presence and powerful note choices have landed him as the main guitarist for Canadian pop sensation Shawn Hook and bassist from Black Veil Brides. When the stars align, Sister Speak snags Lonny for their Canadian winter and summer tours!
Niko Friesen (Canada) – Drums
In the summers of 2016 and 2017 Niko Friesen joined Sister Speak for their annual BC summer tours. His experience, steady grooves, and hard rock influence make for an exciting addition to the show. As a drummer he has gotten to perform and record with many artists, in a wide variety of styles, including Marcy Playground and Issa (AKA Jane Siberry).
Max Marceau Ley (Canada) – Drums
Max joined Sister Speak for shows in 2021 and brought an wonderful level of skill and energy to the set. He has been a mainstay in the Vancouver music scene for years, appearing on countless records and joining several tours every year.