After a fantastic week performing at Canadian Music Week in Toronto and Canada's renowned Tulip Festival in Ottawa, we will be touring back to B.C. by TRAIN to finish up our current seven week North America Tour!!
May 7th at Cameron House in Toronto was packed for CMW! We really lucked out on the crowd. We teamed up with Toronto bassist Victor Martisius of Ghost Town Orchestra and he nailed it! So we took him with us to the Tulip Festival, which went extremely well and pretty much wiped out our CD's for the trip! We played right before the fireworks – what a way to end a set! The trio felt like cousins growing up that vibe. We are all still buzzing from these two shows – probably the most exciting shows of the tour.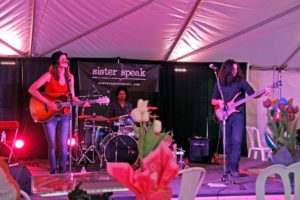 On Friday we checked out the CMW panels and got to first hand hear advice and words of inspiration from many agency's and industry reps we would love to work with. That night we hit up Fanfest at the Sheraton – Keizsa, Lights, Coby Calait, Magic! all put on a spectacular night and the sound was dialed in!
The treck home to BC starts May 14th as we will play on Canada's Via Rail train from Toronto to Kamloops, BC! – A private cabin, lots of card games or your choice of ios games for money, songwriting, gorgeous scenery, and the unknown!! We plan to work on new tracks with our little mini travel studio!
This has been the longest Sister Speak tour we have embarked on yet, and certainly the most beautiful and beneficial. Sometimes you gotta take that risk to learn what it takes to really make a difference musically in the world – immerse yourself in it to be in it. We began the tour April seventh in Chicago at Mayne Stage, which was an epic venue and night – the sound is incredible there (CAU has it down). Rockwood Music Hall in NYC was another highlight with it's top notch sound and listening room vibe. I wish every city had a venue like it! In Boston at the Toad we played to a packed house all night, and the line-up at TT The Bears in Cambridge was off the hook.
We are in the middle of finishing up new tunes for our San Diego homecoming May 29th @Winston's with the band and booking our summer tour! Sister Speak will open for Canada's Colin James August 29th at Sunpeak's in Kamloops!
See you on the road, in studio and on train, plane, and wherever else our paths may cross!
May shows in British Columbia!
RESO NATION Presents:
Sister Speak Live in the Okanagan
Date: Monday May 18th @ 7:30pm. Doors 7pm.
Venue: Triumph Coffee House. 3401 30th Ave, Vernon, BC (downtown)
Tickets: $10. All Ages. Online at www.sisterspeakmusic.com/tour ; For pick up at Triumph p. (778) 475-1288
Partial proceeds go to the Zimbabwe Project.
Sister Speak Live in Victoria
Date: Wednesday May 20th @7:30pm. Doors 7pm.
Venue: Jagasilk Teabar. A17-633 Courtney St, Victoria BC (inside Nootka Court next to the Bug Zoo)
Tickets: $10. All Ages. Online at www.sisterspeakmusic.com/tour ; For pick up at Jagasilk Teabar. p. (778) 430_LOVE
Sister Speak Live in Vancouver
Date: Sunday May 24th @7:30pm. Doors 7pm.
Venue: Cafe Deux Soleils. 2096 Commercial Drive, Vancouver BC
Tickets: $7. All Ages. Reserve at 604-254-1195 and cash-only at the door
More info at: www.sisterspeakmusic.com/tour