Today marks the 1 year anniversary of the memorable and remarkable night of March 21, 2014, where three bands and an estimated 500+ people gathered at the World Beat Center in San Diego, CA for the CD Release Party of Sister Speak's debut album, Rise Up For Love. To this day the album has a life of it's own.
That night was certainly one of the most special evenings in my musical journey and career. Our closest friends, most loyal fans, fellow musicians, and people from many walks of life all under one roof to celebrate the birth of our first album into the world. Todo Mundo opened the night with their wonderful Latin grooves, and Groove Session took the night away as the official after-party. Performing in front of so many beautiful and smiling faces was deeply fulfilling. When we played the song "Lady Love" off the new album, it felt like a soccer stadium of chanters.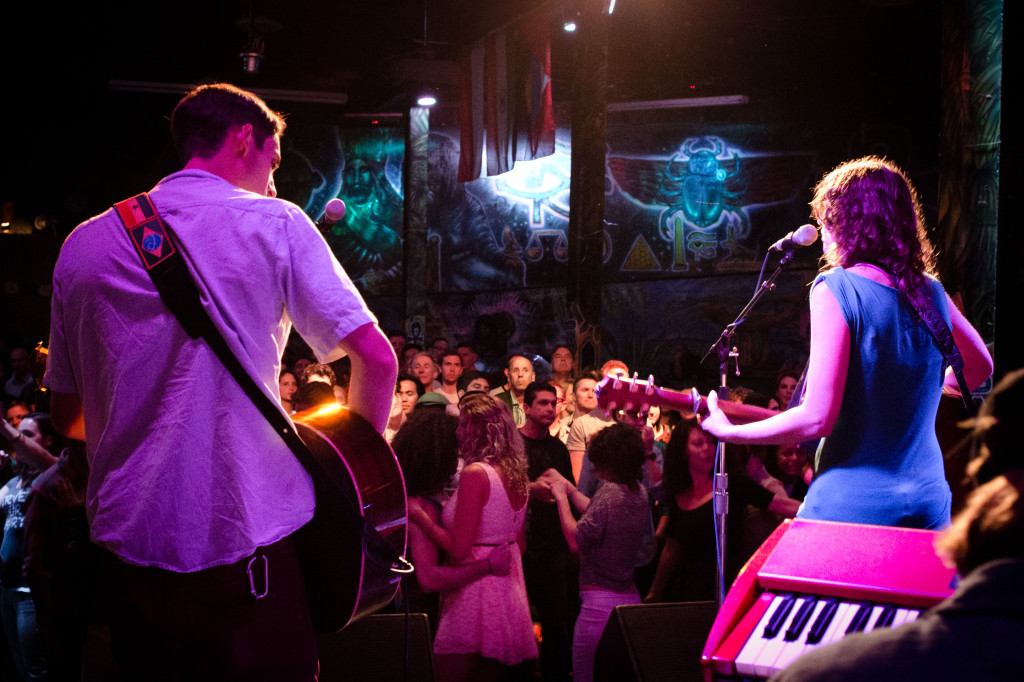 This album has a story and a journey that continues to this day to move and inspire. It is bey0nd me in ways that I continue to discover. That night at the World Beat Center has in retrospect become a milestone and launch for these songs, and led to this being the most fulfilling year musically I have lived to date. While the album's San Diego birthday is March 21st, it's official release is September 23, 2014, as premiered on Vinyl District with Chicago Dream as the first single.
Since that date the album has aired on over 40 stations in Europe including BBC in Scotland, CBC Radio in Canada, and commercial stations in both British Columbia and Southern California. Just last month songs were aired on Juice FM's "Breakout BC" series which airs throughout British Columbia, the song Lady Love has been in rotation on Laguna's 93.5FM this week, and San Diego's 102.1 KPRI FM airs songs from the album Sunday March 22nd, and will feature an interview with Lisa and I Tuesday March 24th. We have sold well over 1000 CD's worldwide independently and looking at our most recent online sales, the album is being bought and/or streamed consistently in over 12 countries.  
In the past year, Sister Speak has opened for wonderful acts like Chris Isaak, Air Supply, Run River North, and played over 150 shows in North America. We spent more days on tour last year than at home. We have connected with incredible bands all over the country, seen new styles of music, collaborated with musicians, and learned to connect as a duo and band in a special way with each other and audiences in new cities. In the summer, we toured for the first time with the full band in Canada. We are extremely grateful for the press reviews on the album, from Sunset in the Rearview(San Francisco) to the Reader and Citybeat in San Diego, to Folk Radio in the UK, papers in British Columbia, and reviews from stations and blogs throughout the USA.
Our incredibly loyal fans, friends and family throughout the country, especially in San Diego, British Columbia and Chicago, have been at the heart of the music finding it's way in this great journey. Sister Speak essentially has it's own Label at the moment. We have named it RESO-Nation – connecting music across nations. It is made up of the band and people who have gone above and beyond to support the journey of the music, including the lovely lady who made this website.
These are all wonderful reminders of the support the album has had this past year, and the band.
I remember in 2012 when most of these songs were written. I was at home in British Columbia and I had just healed from the injury that had brought me there for two months. I felt incredibly clear. I felt inspired. I had just learned to drive properly, even the deepest of wounds in my heart had begun to heal, I had the opportunity to jam consistently with amazing musicians, had time to reconnect with my family, and for perhaps the only time in my life that I can remember, had slept whenever I was tired, eaten when I was hungry, cried when I was hurting, and relentlessly faced every hardship that came my way with a spark and passion I didn't know existed. Every time a new song came through I thanked Life and Music for sharing her gift with me. Every time a new melody came through I would practice it for hours, for days, as my heart began to heal more with each new lyric. It was a remarkably powerful time in my life.
There are simply not enough words in the English language to fully describe this time. It was a time of vulnerability, depth and meaning. Life was tearing at my soul to make some seemingly drastic changes, and I listened. There was no other option. I felt in every way – physically, mentally, emotionally, spiritually, that I had hit a point of no return. That there was only up from there. All suffering is relative and I simply had gotten off track, and something deep inside my soul was launching my spirit into a new journey.
I am looking at the dreams I had at that time: To focus on original music venues, to find bandmates(in addition to Lisa as she was already on fire with commitment to the band), to find a bassist, to find a lead guitarist and vocalist(preferably male for a new sound), to perform these songs confidently, to connect with the audience, to move and be moved, to share these songs with people all over the world. Everything has come true. And the support in the process of these dreams manifesting has left me in awe. The words Rise Up For Love became a sort of mantra for me when coming back to San Diego in 2012 to remind me of my commitment to connecting with humanity for the sake of bringing more love into the world. For rising up out of my insecurities, out of my head, for something greater.
Each day I feel a sense of completion and at the same time a sense of beginning. There is so much to learn, so much to grow into, so many directions to stear, and I am grateful for the challenge. I know inside that music is a tool for connecting with humanity, that even if one person is moved by a song, the music has lived.
To all of you who have believed in the music from the beginning, or just yesterday, or last week, or right now, thank you for your inspiration and encouragement. Thank you. It moves me that you believe in a dream.
I want my dreams to be for you.
-Sherri Anne