"After hearing the beautiful and compelling 'New York Sunrise' by Sister Speak on CBC, we reached out" – Bez Arts Hub, BC

"Sister Speak is all about the music…" – Kitsap Sun, WA
Sister Speak has connected with a diverse fan-base throughout the globe and performs at various festivals, performing arts centers, music clubs and events worldwide. Fourth record Love For All is out April 1, 2022. 
Albums:

1. Love For All (Alt/Indie/Blues/World)
Listen to Sister Speak Love For All (April 1, 2022)
First single and radio fav: "Run Away"
Performance and Interview at 88.5FM Los Angeles: 
2. Live at The Belly Up ( Alt/Indie-Rock/World ) – 2021
Features live versions of 3 new tracks, 4 songs from each album and live videos for most songs:
Listen to Live at the Belly Up (2021)
New single "Crush" featured on CBC Radio Canada:
2. "The Stand EP" ( Alt-Indie-Pop )

The Stand (Official Music Video out now)
Listen to The Stand (2018)
Top Radio Tracks: New York Sunrise, Walls
3. "Rise Up For Love" ( Alt-Americana/Pop )
Listen to Rise Up For Love (2014)
Top Radio tracks: Chicago Dream, Lady Love
Concert Highlights:
150+ shows a year throughout the world
National Acts Sister Speak has supported or shared festivals with:
Air Supply
Alan Doyle (Great Big Sea)- Festival
Dan Mangan – Festival
Doobie Brothers
Chris Isaak
Mike Love
Henry Kapono
Kandace Springs
Penny & Sparrow
Ron Artis ii
Run River North
The Arkells – Festival
The Wailers – Festival
Vaud & The Villains
Venice
Xavier Rudd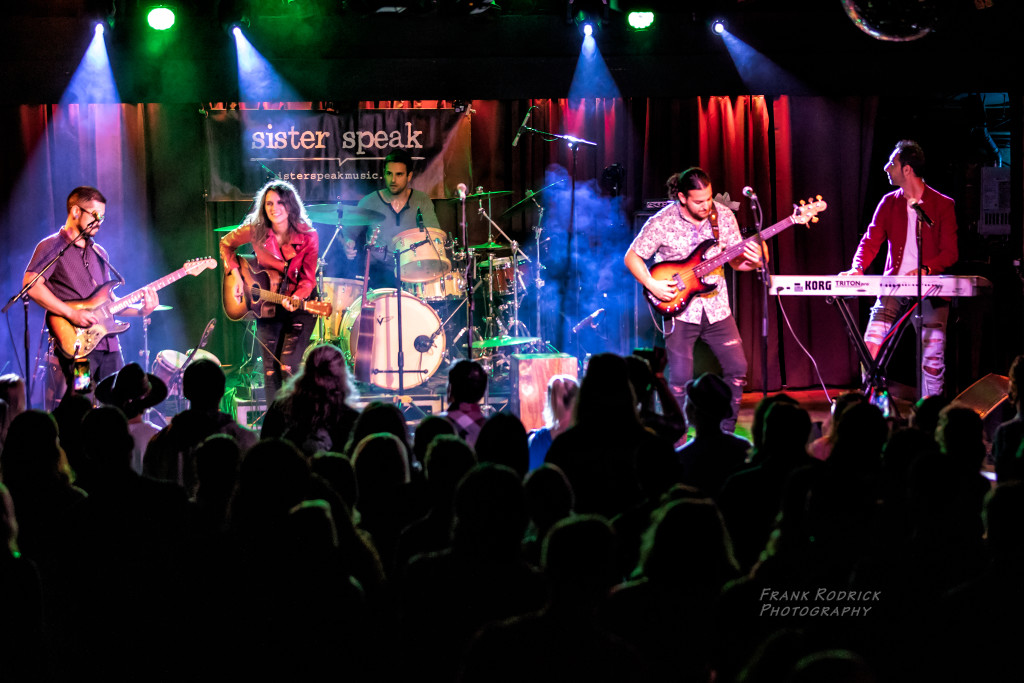 Venue Highlights:
– 25 tours in North America, 4 in Europe, 3 in Central America 
– PACIFIC NORTHWEST: CBC Nooner (5x – Vancouver, BC), Olalla Music Festival (Olalla WA), Revelstoke Summer Fest (4x – Revelstoke BC), Sunpeak's Summer Concerts (4x – Sunpeaks, BC), Sunshine Music Festival (Powell River BC), Tumbleweed Festival (Richland WA)
– EASTERN CANADA: Tulip Festival (Ottawa ON), Cameron House (Toronto ON), Canadian Music Week (2x)
– LOS ANGELES AREA: Hotel Cafe (3x), Pappy & Harriets, Santa Monica Pier, The Troubadour, The Moroccan Lounge, The NAMM Show (5x), Viper Room, The Coach House
– SAN DIEGO AREA: Belly Up Tavern (annually), Casbah, House of Blues, Music Box, Palomar Rock N Soul Fest, Waterfront Park Yoga Festival, Winston's OB, Humphrey's on The Bay Mainstage (7x)
– NEW YORK – Rockwood Music Hall (annually)
– CHICAGO – Hard Rock, Martyrs
– Canadian Music Week (2x)
Band:
Solo: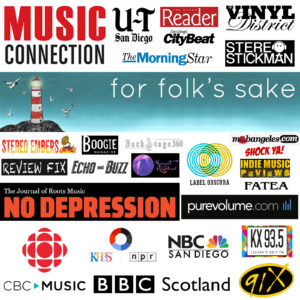 "Sister Speak connected with our audience in a beautiful way, through insightful and loving lyrics and with energetic guitar grooves that kept us dancing and wanting more" – Robert Mackle, Sunshine Music Festival, Powell River BC
"Sister Speak absolutely rocked out our stage…" – Belly Up Tavern, San Diego CA
"Sherri Anne is a great songwriter with a set of beautiful intentions when it comes to how she would like her art to influence the world"
– For Folks Sake, UK
"High energy alternative indie-pop" – CBC Vancouver
Canadian born Sherri Anne is at the core of Sister Speak. Whether performing an electrifying band show or a set of heartfelt acoustic arrangements, Taylor Guitar's artist Sister Speak has connected deeply with a diverse fan-base throughout the globe.
With 2 studio albums and one live record, Sister Speak has performed at various festivals, iconic venues and events worldwide and shared the stage with The Doobie Brothers, Xavier Rudd, Mike Love and Air Supply among others. All 3 albums and first singles from new record have aired on radio in North America, Europe and the UK – most notably CBC, NPR, and BBC.
Sister Speak first connected with a global fanbase when debut album Rise Up For Love came to life. While front-woman Sherri Anne was in recovery from a major injury, her experience of extreme vulnerability opened the channels to pursue what truly inspired her; it was during this trying time when the majority of the songs for "Rise Up For Love" came through – imbued with the notion of rising out of whatever hardship is going on, coming back to the people, to the world, with the desire to share compassion, life and love. The album led the way for a 'Best Pop' award at the San Diego Music Awards.
After touring the first record relentlessly, folk-electronic experiment The Stand EP was recorded in Los Angeles and born. The title track was written on a rooftop in Mexico in the wake of a tropical storm during Sister Speak's first international tour. For the video, Sherri Anne traveled to Peru and Bolivia with a film crew. It was a daunting, bold and spiritual journey that reflected the pure conviction of the song. A call to be courageous and vulnerable in this highly complex socio-political atmosphere.
After returning from The Stand EP world tour, Sister Speak released "Live at the Belly Up" on vinyl record with her full band in February 2020 at the same legendary venue it was recorded at in San Diego, CA. "Crush – live", "Will it Ever – live" and "Lose Control – live (feat The Brothers Burns)" premiered on CBC Vancouver, 88.5FM in Los Angeles, and 91X San Diego respectively.
Sister Speak's fourth record, Love For All is due out April 1, 2022. The Alt/Indie/Blues/World LP is as high energy as it is vulnerable. The record features Anne's introspective lyrics, strong vocal and guitar melodies, and the electric talents of her bandmates Stephen Haaker, Sarven Manguiat and Jacob Miranda Jr. Extraordinary guest musicians Bonnie Brooksbank on violin, Jon Deas – keyboardist for Glary Clark Jr, Aaron Durr and The Brother Burns add their magic as well. Whether performing solo or as a band, Sister Speak aims to share message-driven music and support the authentic expression of the woman's voice. The band is based in Vancouver BC and Los Angeles CA with some tour breaks spent in Vermont.
Links: Website   Facebook   Instagram   Twitter
Booking: BOOKING@SISTERSPEAKMUSIC.COM or
PR@RESO-NATION.COM
p. 872.235.3757
www.sisterspeakmusic.com