National Touring Act

Supported Chris Isaac, Xavier Rudd, Air Supply, Mike Love

'Best Pop' – San Diego Music Awards (2017)
Sherri Anne voted "Top 9 Rhythm Guitarists" – NBC San Diego

Endorsed by Taylor Guitars, D'addario, Jagasilk, Blockstar FH

Canadian born and now both BC and California-residing Sherri Anne is at the core of Sister Speak, an indie-pop (and rock/blues/world music) entity that creates warm, uplifting, and thought-provoking music.
Whether performing an electrifying band show or a set of heartfelt acoustic arrangements, this Taylor Guitar's sponsored artist has connected deeply with a diverse fan-base throughout the globe. In concert Sister Speak combines passionate Alt/Indie/Blues with a touch of World music. 
After recovering from a major injury, Sherri Anne set out to share her passionate songwriting and hopeful message around the globe. While in recovery, Sherri Anne's experience of extreme vulnerability opened the channels to pursue what truly inspired her and it was during this trying time when the majority of the songs for debut album Rise Up For Love came through – imbued with the notion of rising out of whatever hardship is going on, coming back to the people, to the world, with the desire to share compassion, life and love.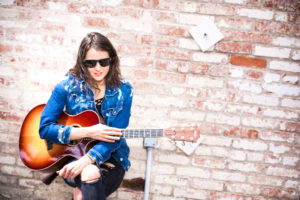 After touring the first record relentlessly, folk-electronic experiment "The Stand EP" was recorded in California and born. The title track was written on a rooftop in Mexico in the wake of a tropical storm during Sister Speak's first international tour. "The song is filled with an insurmountable flood of emotion about what has happened to so many of the earth's people and most gorgeous places" says Sherri Anne. "Mostly a result of imperialism and aggressive religious pursuits."
For the video, Sherri Anne traveled to Peru and Bolivia with a film crew for two weeks, capturing footage at Machu Picchu, Cusco, Puno and other sacred sites. It was a daunting, bold and spiritual journey that reflected the pure conviction of the song. A call to be courageous and vulnerable in this highly complex socio-political atmosphere.
After returning from The Stand EP world tour, Sister Speak released Live at the Belly Up on vinyl record with her full band in February 2020 at  the same venue it was recorded at in San Diego, CA. The entirely live record features 3 unreleased tracks and full band versions of songs from both studio albums. The world tour made stops in Canada, USA, Germany, France, Hungary, Belize and Costa Rica.
Fourth record, Love For All (L'Amour Pour Tous, Liebe Für Alle), features all-star musicianship and captures a festive "Alt-Blues/World" sound. The album released to radio April 2022. The record is as high energy as it is vulnerable.
Anne's compelling vocals and lyrics are supported by rich acoustic guitar stylings and the talents of her bandmates Sarven Manguiat, Stephen Haaker and Jacob Miranda Jr. Guest musicians Bonnie Brooksbank, Aaron Durr, Jon Deas (of Gary Clark Jr), and The Brother Burns add their magical touch as well. The album art features a painting by Steve Chmilar of Sidney BC from his piece called "The Mood Collector." The record was co-produced by Stephen Haaker and Brett Grossman and mastered by Elisa Pangsaeng of CPS Mastering in Vancouver, BC Canada.
Sister Speak has headlined and performed at various festivals and iconic venues throughout the world and shared the stage with The Doobie Brothers, Xavier Rudd and Air Supply among others. Forthcoming LP Love For All is currently in the making – featuring the electric talents of her bandmates Stephen Haaker (drums), Sarven Manguiat (lead guitar/harmonies) and Jacob Miranda (bass) as well as extraordinary guest players. Whether performing solo or as band, Sister Speak aims to share message-driven music and support the authentic expression of the woman's voice. Sister Speak is based in southern California with tour breaks spent in British Columbia, Canada and Vermont.
The Stand was produced and recorded by Avli Avliav(Warner, Sony) in Los Angeles, mixed by Grammy Award winning Alan Sanderson in San Diego, and mastered by Erick Labson in LA at United Mastering.
Sister Speak's debut album, Rise Up For Love, was released in 2014 and since then, Sister Speak has performed over 500 shows, headlined some of California's top music clubs, supported acts like Xavier Rudd, Mike Love (Hawaii), Air Supply, Chris Isaak and appeared on Canada's global TV, FM 91.1 San Diego, at N.A.M.M. Sister Speak performs at numerous music festivals all over the US and western Canada. The music has hit radio airwaves throughout Canada, the USA and Europe – mainly CBC Canada, BBC Europe and California commercial radio. Sister Speak won Best Pop at the 2017 San Diego Music Awards.
CURRENT ENDORSEMENTS / PARTNERSHIPS:
D'addario: www.daddario.com
Jagasilk: www.jagasilk.com
Taylor Guitars: www.taylorguitars.com
Blockstar FH: www.blockstarfieldhockey.com